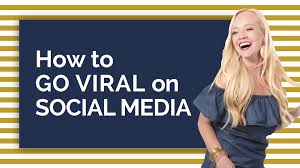 Tapping into social media marketing is a gold mine for those who know how to dig for gold.
After all, how many other ways can you reach and interact with so many potential clients from one place?
Social media is amazing for this purpose. It creates a community for an owner and their customers. This helps current customers get a better relationship with the brand and new ones to come through the door.
This is a great course to help you gain an understanding of how to use social media at its fullest potential.
Paid ads bring in millions of dollars for advertisers. You could be managing those accounts. It only takes a little knowledge and the drive to make a comfortable personal fortune.

If you've got a passion for this, then you need to learn more from Rachel Pedersen.
Keep in mind as you absorb the tidbits here that Social Media Marketing is an extremely valuable skill to have, and it takes hard work to master. Something I've found throughout my experience making money online is that less is often more.
There are big differences between traffic from Social Media platforms (people are not usually happy to see or interact with ads on Facebook) vs. Google (where people are actively searching for services.)
When you read through this review on this course, you will get the good AND the bad.
Does it work? Is it better than other types of online advertising methods to get business for your company or your clients? I am now earning $50k a month with social media, as well as doing lead generation for local businesses.
I'll be reviewing this course and comparing the two ways I've earned income.
Let's dive in!
Who is Rachel Pedersen?
Rachel Pedersen was a mom who wanted more. She delved deep into social media, and we're not talking pictures of her kids. She got into the back end of Facebook and learned how it worked.
She began leveraging these tools for local businesses and building a small business of her own. As her success with social media marketing grew, so did her revenue stream.

She decided she had to pass on all the lessons she had learned. Some of them were hard knocks that she hoped newbies could bypass. That's why she created Social Media University.
Social Media University Summary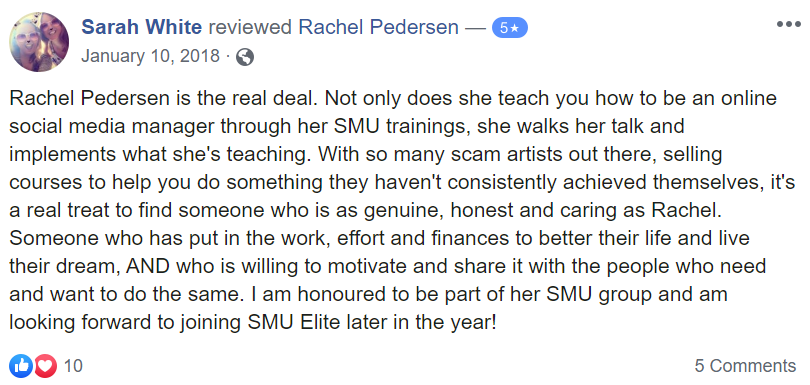 How do you make money from social media? There are two ways.

You can be a social media marketer and help clients build their presence and their sales through your superb talents. This course will teach you how to do that.

You can also start your own online business and sell products. You can use social media platforms as direct sales funnels to bring customers to your page and make money. This course teaches you how to do that too.

So, what exactly do you learn?
· How to turn Facebook audiences into high converting customers
· How to make mega sales on Instagram
· How to use YouTube to build your own broadcast channel to sell product
· Why Twitter selling is through the roof and how to get in on the action
· How to build a social media digital calendar that taps audiences precisely when they are ready to buy

Rachel was new to all this too, once. That's why she makes sure the course is easy to understand, easy to follow and step by step.

But, she doesn't pull any punches. She wants you to learn how to use metrics to help clients make ecom money.
She wants you learn how to create the ultimate Facebook ad that engages customers and makes huge conversions at the ecom end.

She even shows you how to track your results so you can show clients that all their big sales came directly from your efforts.

This blueprint to success has done amazing things for Rachel. She wants to pass on her success. Why work a nine to five job when you can be raking in big bucks from your home office?

Don't be stuck in a cubicle every again. With Rachel's approach you gain not only financial freedom, but personal freedom. Coming from a devoted mom like Rachel, this matters.

Don't let the financial powers of social media fall into the hands of others. You can master this.
You just need the commitment and the drive.

It's time to get schooled at Social Media University.
Pedersen's Course was Well Done, But What I'm Doing in 2019 is Getting Me Huge Passive Income
It's a process like no other…
Businesses need plenty of clients to survive. But, everybody knows that right?
What I do is I build websites that can gain traction for them and help clients find them.
They then are able to make deals with these clients and generate income so that they can thrive in their respective industry.
I'll get further into it, but first I'd like to show you an example. This limo service and I have been working together for a while now:
How does this and working with social media compare?
Cons of Working in Social Media
Very time-consuming work
Risk of negative publicity
Takes trial and error to perfect (which takes time and money).
Client can fire you any time they don't need you anymore.
Why I Love Lead Generation
You own the websites you make.
Very little upkeep once established
Great customer retention
Low competition in the correct area and industry
So, this is how it works…
First, we build a website and get it to become relevant in a search engine's results. This step may take some patience.
Once it's in a good position it'll start generating leads, which we forward to the company we are in business with.
These leads we generate allow them to make more deals in which they get paid a lot for. That's why they pay us.
My absolute favorite part is that these sites require little to no maintenance once they're built and relevant
It's a true passive income with huge potential.
Here is another example. This tree service has been paying me for years now for a website I barely pay attention to.
I've been steadily earning $2000 a month from this site alone. And as you build more websites, you'll be earning more passive income.
Another thing I love is that you own 100% of the sites you create. So if that tree service ever quits on me, I can just move the leads on to another.
No risk on your part whatsoever.
There is also a huge community out there of people who have thrived off this method and they're willing to help you out if you ever feel you're at an impasse.
We also have a Facebook community that support one another and events are posted there that people from around the world attend.
Here's a post from excited students after our 2019 Las Vegas event #Reload!
To start, this lead gen coaching program will teach you what you need to know.
We are always happy to see new faces and we hope you'll be among them!